Illuminate the attic here is some trick from the experts:
Let's find out how to enhance the attic with the right lighting
It is not uncommon to find a house in which an attic has been created and for this reason it is essential to understand how an attic lights up properly. The attic is a room made out of an attic composed of windows, usually in the most inclined part of the roof, or skylights. The characteristic roof of the attic makes it difficult not only to furnish this space but above all the type of lighting that must be adopted.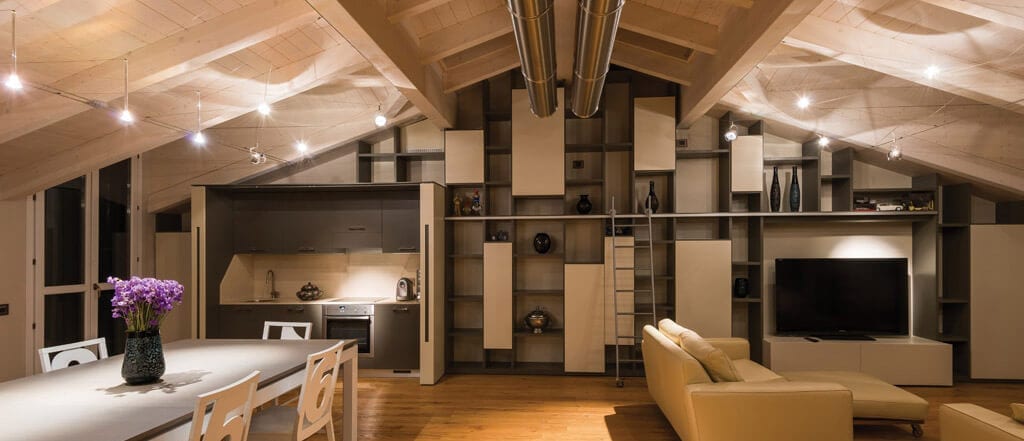 Usually it is not recommended the use of chandeliers or pendant lights in environments such as the attic just because their structure takes up too much space and could limit the movement inside. Since the ceiling is not horizontal and in many cases with the presence of exposed beams I always suggest the use of floor or ceiling-mounted lmapade where there is a flat space surface that allows installation.
If your case is that of an attic with beamed ceiling you could consider installing adjustable spot elements to be placed between the spaces that can be obtained between the beam and the beam that take care of enhancing the pleasant structure of the ceiling. Do not try to fill the attic with too many lamps because these spaces are much more appreciable when they fully respect the presence of both light and shadows that soften the general colors.
Parallel cable systems are luminous solutions created specifically for atmospheres such as the attic and allow the creation of a sort of luminous path that does not attach itself to the ceiling, enabling you to illuminate the space without having a horizontal ceiling. Remember, however, to choose energy-saving lamps so as to maintain an eco-sustainable approach even in the attic.