HOUSE B + M lighting design:
Inside a residential building from the 80s, the architect Piergiorgio Miserendino, owner of the PM Architecture studio in Palermo, signs the renovation of a 120 m2 building belonging to a professional couple.
The singular style with a contemporary appeal focuses on a strong materiality, careful choice of selected raw materials and a color palette with neutral  and spicy   tones that amplify the volumes and reflect the light.
Great attention was paid by the designer to the specificity of the materials: wood, glass, metal, stone.
Spaces with a strong personality follow the dress code in the name of sinuous elegance.
With attention to the smallest details, few calibrated presences, between designer pieces and custom-made furnishings, the apartment is embellished with warm, soft and reassuring lights.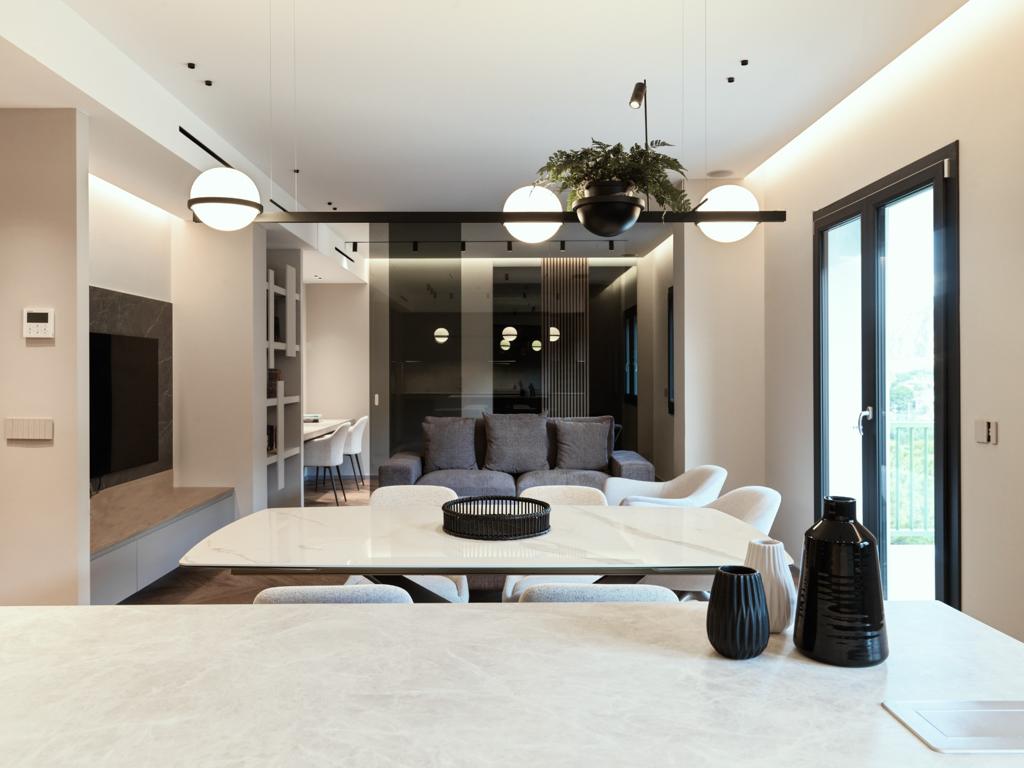 A sartorial project defined on the needs of a client very attentive to detail.
Inside, a simple and sophisticated style dominates in which the nuances of beige, brown and gray become a direct dialogue with the natural shades of the backdrop of the mountainous relief which is made up of Monte Pellegrino, a promontory that juts out into the Tyrrhenian Sea to close the end north of the Gulf of Palermo.
The lamps used are trendy products which, in addition to illuminating the spaces in the best possible way, furnish them with a touch of elegance and style.
With our software we have the ability to preview the performance of the lights installed, to intervene before the actual installation of the lighting systems.
We design for you
A staff of professional architects and light designers who have been working in the sector for over 25 years, using the best brands on the market and the most innovative products.
The philosophy of Lightdesign.shop was born from the desire to differentiate itself from the e-commerce landscape of the sector, by offering free professional advice, for all those who need technical/design support and products and materials of great quality at an excellent price.
Architect: Arch.Piergiorgio Miserendino
Lighting Consultant: LiD Design
Photo:  Antonio D'Anna