CASA D lighting project:
The apartment, the result of a renovation and re-functionalization project of the space, is spread over three levels within an ancient building located in the historic center of the city of Palermo.
In the entrance level, the reception and service spaces have been obtained: a study that can be easily converted into a guest room, a large double-height living-dining space in which some pre-existing architectural elements have been kept (stone arches and a with wooden beams) and made a long hole in the roof, which allows the zenithal light to enter the room directly; the space is completed by a kitchen with pantry and a service bathroom.
The lamps used are trendy products that, in addition to illuminating the spaces at their best, furnish it with a touch of elegance and style.
With our software we have the possibility to preview the performance of the installed lights, to intervene before the actual installation of the lighting systems.
The intent is to concentrate a soft and direct light on the tables to enhance the spaces.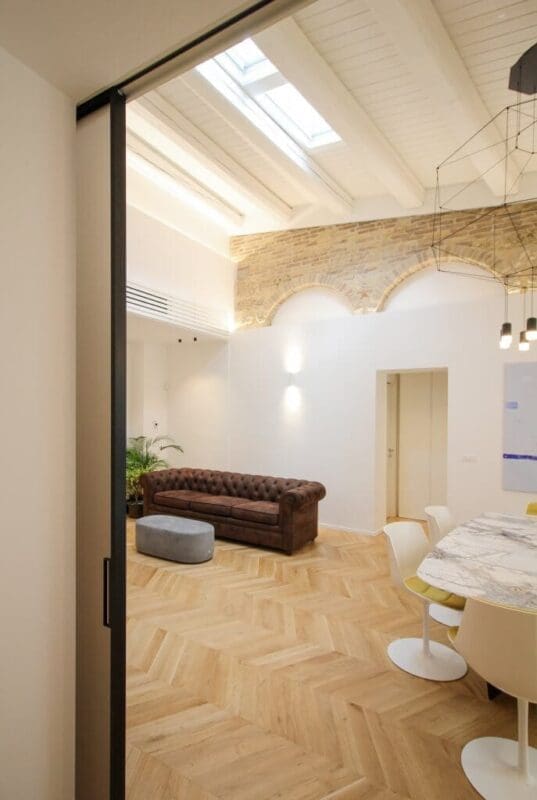 We design for you
A staff of professional Architects and Light Designers who have been operating in the sector for over 25 years, using the best brands on the market and the most innovative products.
The philosophy of Lightdesign.shop stems from the desire to differentiate itself from the e-commerce landscape of the sector, offering free professional advice, for all those who need technical / design support and high quality products and materials at an excellent price.
Architect: RUFFINOASSOCIATI
Lighting Consultant: LiD Design