LID DESIGN has been collaborating for years with the ZUMTOBEL company, which for over 60 years is synonymous with innovation, design excellence, products and services of unparalleled quality. The deep knowledge of light and its effects on man has always been the principle that guides the brand. With the aim of offering the best light for man and the environment, the company develops customized solutions with tangible added value.

Quality management
Zumtobel products meet the highest quality standards and are convincing with their long service life. Throughout the production chain, including administration and transport, uncompromising quality management was integrated to ensure impeccable service and constantly improve it. For the benefit of customers, suppliers, employees and partners. All Zumtobel production plants are certified to the international standard ISO 9001: 2015.
SPOTLIGHTS AND ELECTRIFIED TRACKS
Spotlights lend themselves with versatility to accent lighting or even general lighting. If combined with an electrified track they can be mounted at any point, for absolute flexibility.
MODULAR SYSTEMS
Modular systems are guarantors of absolute flexibility and simple combinations. This is why they always know how to live up to expectations.
DOWNLIGHTS
Zumtobel downlights harmonize with the architecture and generate refined lighting that meets the highest demands.
RECESSED LUMINAIRES
The recessed luminaires fit into the ceiling without interruption and without giving the eye, leaving precedence to the architectural aspect.
CEILING AND SUSPENSION LUMINAIRES
Mounted on the ceiling or suspended freely in the space as a hooked variant, Zumtobel ceiling lights and suspended luminaires give the right light for environments of any height.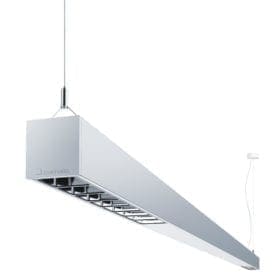 FLOOR AND WALL-MOUNTED LUMINAIRES
Flexible working environments require equally flexible lighting. The uprights move easily in the preferred position and can emit direct or indirect light. The wall-mounted luminaires serve instead to create a pleasant atmosphere, as well as to promote orientation and a sense of security in the marginal or passage areas.
CONTINUOUS FILES AND SINGLE SUPPORTS
The advantages of continuous file systems are flexibility, ease of assembly, infinite possibilities of combination. The single supports are instead characterized by the simplicity of the forms, reduced to the essential.
INDUSTRIAL APPLIANCES
Long service life, long maintenance intervals and low energy requirements for good general lighting: these are the qualities of modern industrial reflectors.
INCREASED PROTECTIVE EQUIPMENT
Increased protection devices can handle any inconvenience. Depending on the conditions they can be protected from external agents such as dust and sand, hot and cold, or water.
OUTDOOR APPLIANCES
Facade lighting fixtures offer designers tools to enhance building architecture with flexibility and in a diversified way. The result is solutions that meet people's needs but also to emphasize the three-dimensional effect of the spaces – with the correct quality of light at the right time and in the right place.
---